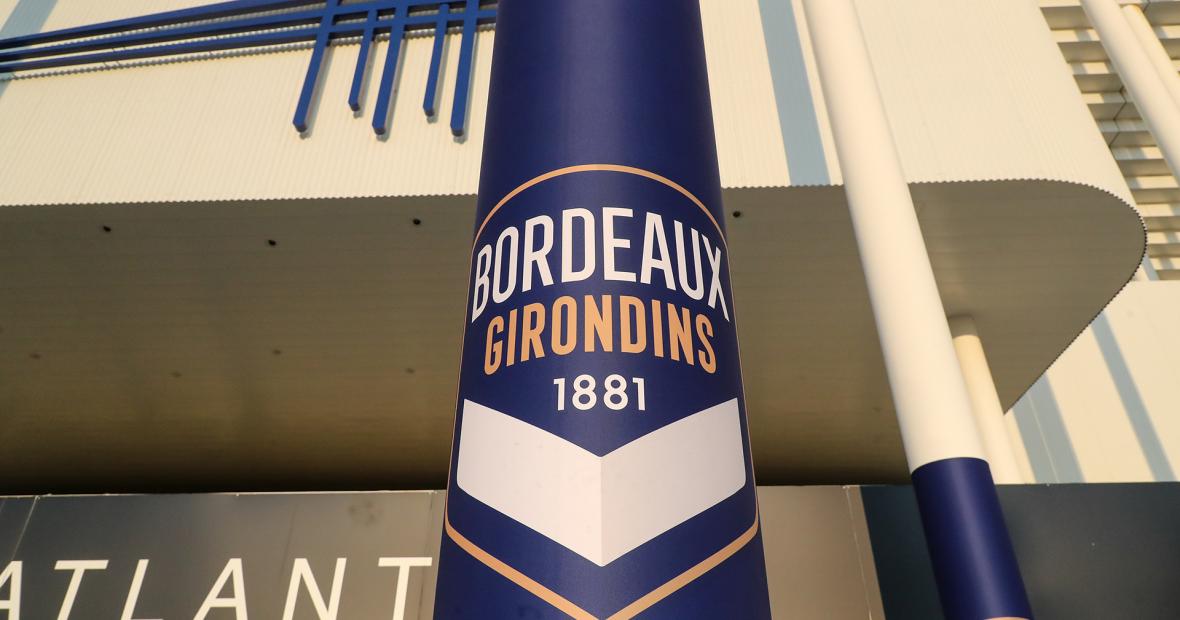 The Matmut ATLANTIQUE stadium is located in the Bordeaux-Lac area of the city. The stadium offers free parking, good public transport connections and hotels nearby, making life easy for fans.
Map
Organise your visit to the Stadium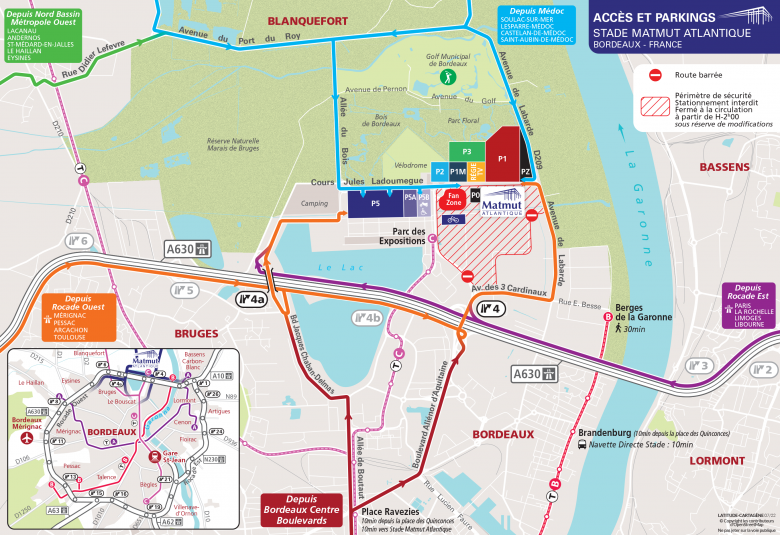 Organisez votre sortie du Stade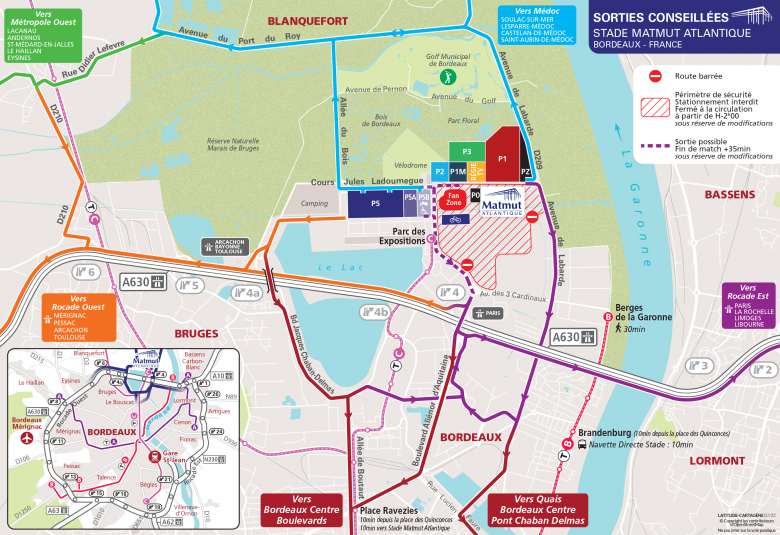 Matmut Atlantique
Cours Jules Ladoumègue - CS 50001 - 33070 Bordeaux Cedex
GPS : 44°53'53'' N, 0°33'35''E
By car
From the Rocade (ring road), take Junction 6 and 4a Bordeaux Lac / Parc des Expositions. From the centre of Bordeaux, head north via the boulevards and Place Ravezies, then take Allée de Boutaut and Boulevard Jacques Chaban-Delmas around the west (left-hand) side of the lake.
Download Waze, updated on every matchday to give you real-time information on the best way to get to the home of the Girondins de Bordeaux.
By tram
Line C - Alight at Parc des Expositions and walk 400 metres.
Line B - Alight at Brandenburg and take the stadium shuttle bus.
More info at infotbm.com >>>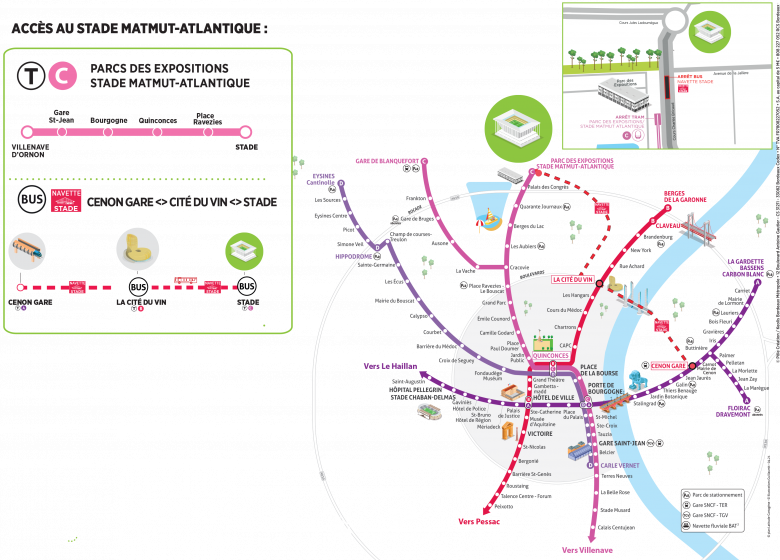 By bus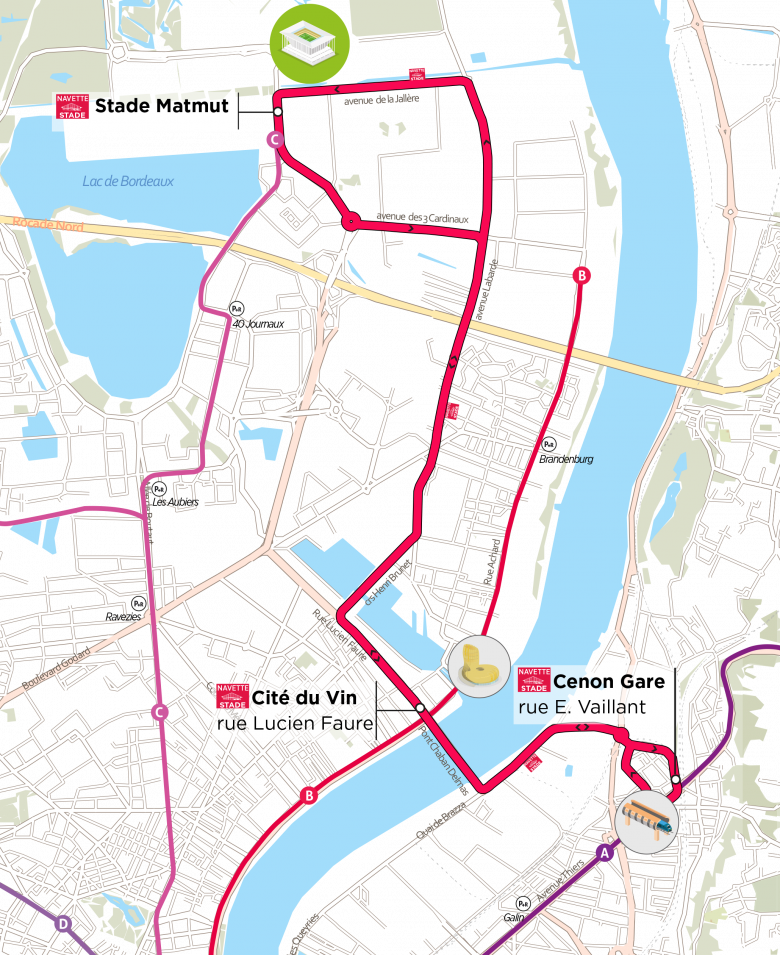 Vous pouvez également utiliser les lignes 25 et 37 pour vous rendre au Matmut ATLANTIQUE.
Attention ces lignes ne circulent pas le dimanche.
By train
From Gare St Jean, take Tram C to "Parc des Expositions"
By plane
The Bordeaux-Mérignac international airport is 15 km from the Matmut ATLANTIQUE
Selecting your seats
Take a look at the stadium plan and decide where you'd like to sit. Getting to know the Matmut ATLANTIQUE will make it easier to choose.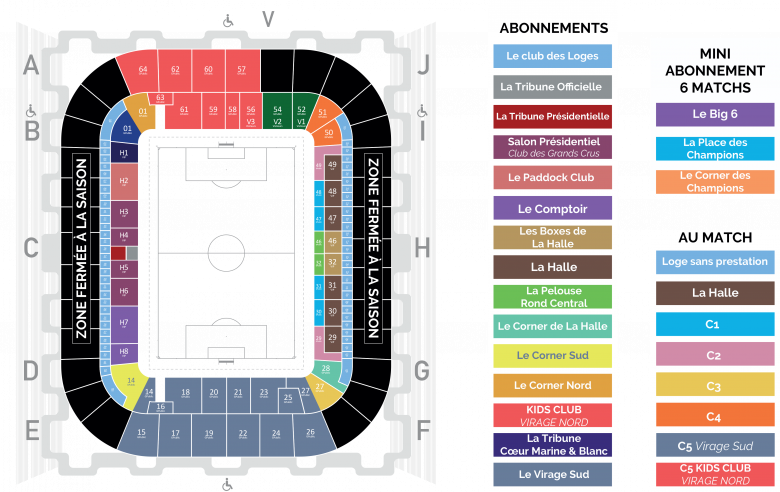 Finding your seats
With the help of the plan shown here and the information provided on your ticket, you can plan ahead for how to get to your seats. The information panels at the East and West entrances will help guide you through the Matmut Atlantique.
Parking
On matchdays, the 6000 spaces in the Parc des Expositions car park are reserved exclusively for visitors to the Matmut ATLANTIQUE. Bewteen the Parc Floral and the North Stand there is a 1500-space car park for VIPs, disabled fans, guests and the media. That makes a grand total of 7500 free parking spaces around the stadium.
The Parc des Expositions car park is open free of charge on matchdays. It opens to the public three hours before kick-off.